SutterHill Capital Corporation
Investment Banking - Calgary Canada
An Energy Capital and Financial Center plugged into a Global Economic Matrix
The Dynamics of Keystone XL - and Why the Pendulum May Be Starting To Shift!
▪ Once Again the US Administration has delayed the Keystone Pipeline, hiding behind nine Nebraska Supreme Court Judges who have ruled that the States'constitution was violated when the Nebraska Government approved Keystone's re-routing.
▪ Despite this most recent setback, advocates for Keystone exist in both the Senate and Congress. Interestingly, Senate support continues even though the Senate is under control of the Democrats.
▪ Yes it is true, the Senate and Congress have pushed for Keystone support before, but this time there is a huge difference! Thursday's move - 1 May 2014 - had the Senate Majority Leader Harry Reid, a staunch supporter against Keystone, agreeing to permit a Keystone vote at the Senate chamber as part of a larger Energy Efficency Bill.
▪ It is not entirely impossible that the Senate could vote a 60% majority for the Keystone XL! If the 60% position was ratified, them the resolution would clear the Senate and most likely pass at the Republican controlled House of Representatives.
▪ The US Administration could still veto the Keystone XL legislation. However, ratification by the Senate at 67% cannot be vetoed as it would have support of two thirds of the Senate. ▪ The fact that Harry Reid is not objecting to the Keystone Bill being included in the Energy Efficiency legislation, suggests that there is becoming wide spread bipartisan support for the Pipeline. ▪ Think about it! Six or seven additional Senate votes would start the process of adding 1 Million Barrels of Oil per day take away capacity from the Canadian Oil Sands setting the stage for improved Western Canadian Select (WCS) pricing, convergence of Nymex and Brent oil values and providing a major impetus to Northern Gateway and the Trans Mountain pipelines to British Columbia.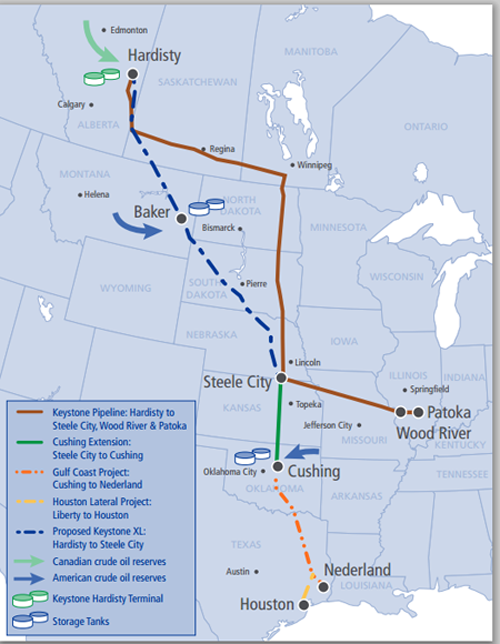 Proposed Private Equity Fund